Rook has been a favorite game for so many for a long time.  The concept of the game is simple that anyone can learn and understand it, yet it is complex enough that even your game playing strategists can dissect the intricacies of the game for their winning benefits.
However, for some reason, Hasbro (one of the largest toy companies and game creators on the planet) decided to make this game so very unenjoyable.
How might you ask is that possible?
By making a deck of cards that are so utterly thin that you can literally can see through to the other side of the cards.
Not only are the cards especially thin material, but the "plastic" coating used are the cards seems like a substance that dissolves in your hands.  Completely unlike the M&M candy, melts in your mouth and in your hands.
The trouble is, we love the game so much that we can't figure out why Hasbro would make us not want to play it.
It's completely laughable.  If you go to Amazon to try and purchase the Hasbro deck of rook cards, the first reviews are all warning about the poor quality of the current deck of rook cards.
The part that is laughable to me about this is that even with a number of poor reviews that show up as the first and most helpful reviews, Amazon still has this product reporting an almost 5 star rating.
I do love the game, but seriously, if the product is poor quality, I'm surprised these complaints don't carry more weight.
I don't usually like to rant about something someone is doing poorly…so I am going to switch gears.
On the flip side, you have a company (57 Cards) that has created a similar deck of cards, yet has done so with integrity in quality.  While the rating on the product looks almost identical, I assure you the quality of these two decks are drastically different.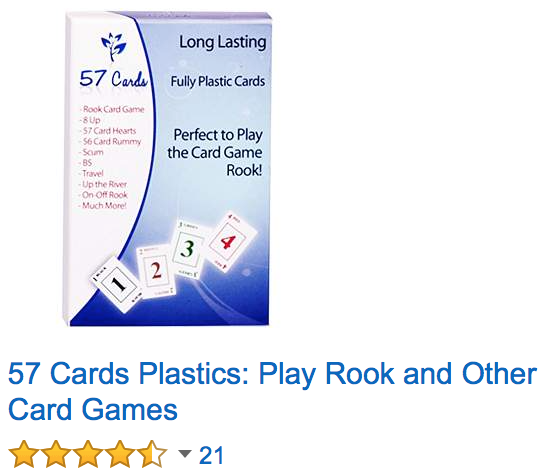 For us in our game, we solely use the 57 Cards deck which you can purchase at Amazon here.
Whatever the deck is called, 57 cards or Rook, I'm happy to have a chance to keep playing in my house for a long time!